I said I wouldn't be one of those moms who is constantly shoving pictures and anecdotes about her children down people's throats. I am probably failing miserably. But I do want to take a moment to introduce you to my inspiration for all the things I have posted lately. Meet Trenton and his quilt..
Around here he is also known as Trent Trent, Mr. T, Man Man, Fella, Booby and Sugabutt (his auntie's name for him). I was able to add these cute graphics on the pics with my new fave photo editing website
PicMonkey.
It was easy to use and navigate.
About the quilt. These fabrics are mostly purchased from various shops on Etsy including
Sisters and Quilters
and
Raspberry Creek Fabric
. I was also able to find some of the fabrics at Jackman's Fabrics here in St. Louis where I do a lot of my shopping for fabrics. The pattern is Turning 20 Again and only used 9 fabrics. It is a very forgiving pattern. I picked the cars and brown and orange argyles first and the rest just fell into place. They are by Anne Kelle for Robert Kaufman Fabrics, in case you are looking for them still. They are supposed to be organic, hence the slightly higher price per yard. The back is Soft and Comfy fabric in orange from Hobby Lobby (40% off coupon baby). This fabric is great on the back but can be a bear to work with if you have to piece it. It has a definite nap so make sure you look at it from all angles before sewing it together. I speak from experience.
The quilt dimensions are 60 x 60. I am going to use it as a background for the pics I take of him every month. Otherwise it is draped on the side of his crib and we snuggle beneath it during our middle of the night feedings, which (thank God) are becoming few and far between.
The dog in the pics is our Great Dane, Nahla. She is a year old and she and Trent almost share a birthday. Everytime a quilt hits the floor she thinks it is for her and whenever Trent is in reach she is licking and sniffing him. Unfortunately, I can't leave her on the floor with him yet cause she is just too big and doesn't know her own strength and I am afraid those paws will do damage. But I think she is over the trauma of his arrival and likes Trent a lot.
You can also catch him modeling my quilts on Etsy now. More about this quilt soon in a separate post.
Yes, he is a thumb sucker!
He has such great expressions!
So there you have it - my other inspiration. I just love him and his sister to pieces. Here they are together on his quilt. Would love to hear from you - I love comments!
Be blessed y'all - I am.
Corynne
Linking to...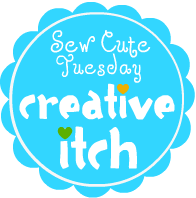 Get Your Craft On